From Korea
Dance Scene in Korea : November 2013

Performing Arts Market Seoul (PAMS) is annually presented by the Korea Arts Management Service to encourage exchange and creative cooperation between its participants. For a week in October this year, PAMS provided a variety of programmes with its Networking meetings Booth Exhibition and Showcases. There were 1,418 Korean attendees and 223 overseas attendees from 53 countries. Especially, PAMS Choice which is a selection of artistic excellence and outstanding works has been presented in many countries. Cooperating with the Arts Council Korea, winners of PAMS Choice could be supported for their international touring.




Last month, the K-Ballet World Festival showcased modern as well as classic dances. It was a wonderful opportunity to see performances by various ballet dancers and see the works of different choreographers. The Korea Ballet Association hosted this festival that featured the highlights of different performances from each participating dance company. In one show, various performances by distinguished ballet companies in Korea presented. At the same time, most of them were created by famous choreographers in abroad.




In October, Seoul Section of the Int'l Dance Council CID (Conseil International de la Danse) held the 16th Seoul International Dance Festival-SIDance 2013 around Seoul city including Gangdong Arts Center, Seoul Arts Center and Goyang Aram Nuri Arts Center. Audiences could see many kinds of dance performed by over 50 notable dance companies and artists at home and abroad from 16 countries (Finland, France, Spain, Slovenia, Macedonia, Norway, Italy, Australia, Canada, U.S., Nigeria, Congo, Taiwan, China, Singapore, and Korea). This festival is a barometer of dance trends and situations in Korea.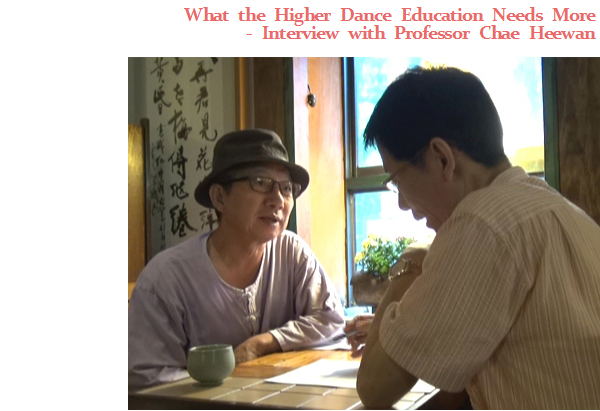 Professor Chae retired from Busan Nat'l University at the last August. He is an expert of the Korean Mask dance, T'alchum, and Korean dance aesthetics. His nickname is a "religious sect leader" because many people have caught on fire by his unique performing theory about Korean dance. Also, he is now a co-chairman of the Korean Association of Dance Critics and Researchers. This is a summary of an interview with him in Sept. 2013. Interviewer Kim Chaehyeon is the editor of the Dancewebzine and also a co-chairman of the Association. You can see the full text of the interview in Korean at Dancewbzine No. 50.
(The greeting part is skipped)
Kim: First of all, I would like to know your plan after the retirement.

Chae: Next year is the 120th Anniversary of Tonghak Peasant Revolution. Tonghak(東學, literally Eastern Learning) is a Korean indigenous religion. It was founded to oppose Western culture and espouse equality of all people in 1860. It was not only a religious movement but a social movement to influence future democratic movements. - written by translator). I would like to celebrate it through the Korean traditional performing procedure. This project will be cooperated with Korean People Artist Federation and some other literature groups. The main programme should be a sword dance A Song of Swords. This dance piece was based on a song by the founder of Tonghak, Ch'oi Che-u.

Kim: This piece was performed in many times. If I remember right, it was premiered in 1994. On the Korea's road to democracy, this piece presented the issue of Korean unification and the International status. At that time, this dance received fervent response from audience. Now, I would like to listen to your story as a dance scholar. Many people know you were a professor in Pusan National University. How did you start to teach in the school?

Chae: Since 1985, I had worked in the school. Before I worked in Pusan, I was a lecturer in Cheongju University of Education (It changed the name to Seowon University in 1992. - written by translator).

Kim: This University was one of the first schools to have a dance study programme, wasn't it?

Chae: Yes, it was. In this regard, this school blazed a trail of dance study in Korea. At that time, however, the dance department belonged to the sport education school. Thanks to this circumstance, there was a limit as to what I could do. When I moved to Pusan National University, I set up new curriculum for the dance research. It has been developed and it turned out a combined master's and doctorate programme as well as a BA programme. This became the department of Art Culture and Image in 2005. It focuses on Aesthetics and arts encompass Korean traditional aesthetics and arts as well as modern theories of the Western world. Students participate in diverse art practices at clubs specialized in image studies, aesthetics studies, art history, and dance. Each club has mentors from graduate programnes who offer professional guidance and advice. More than 30 students are researching in this term and some of them came from China and other countries.

Kim: As a dance scholar, what is your hope for the future of dance education?

Chae: In Korea, most of dance departments in universities have just focused on practice. Obviously, dance practice is important but dance theory is also important. Dancers should carefully think about dance. To create a new dance and to perform a dance piece, dancers need introspect about their performances. I believe that dancers also need look at their dances from various angles. Dance theory such as Dance history, dance aesthetics, dance analysis, dance sociology, movement theory and dance anthropology often gives a chance to have introspections and various angles. However, most of current dance curriculums emphasise on dance techniques. The master degree programme is no exception. Dance theory is indispensable to dance practice. However, Korean dance education system very often neglects to the theory part. I hope at least 40% of curriculum of the dance department should be theoretical parts.

Kim: It's impossible to separate from dance to the theory.

Chae: In these days, Korean literature scholars as well as sociologists and anthropologists turn attention to Korean dance. Under this circumstance, in fact, dance departments in universities are far more inclusive now than they used to be. More interdisciplinary lectures connecting dance to other fields are required.

Kim: Did you bring this idea to fruition when you were in Pusan National University?

Chae: The name of the department implies this idea. Many courses reflect the multidisciplinary nature of contemporary art, graphic design, dance, performing arts and curating, providing a creative and dynamic environment for study based on collaborative activity. At the same time, every course emphasise liberal arts knowledge and students' critical views.

Kim: What's the aim of the courses?

Chae: I always highlight that school is a playground. The curriculum was designed to develop imagination and to value creative ideas. So play is important in many courses.

Kim: Play?

Chae: Play is not simply killing time or entertainment. Actually, play has a broad idea. Many plays are spontaneous, democratic and advanced activities. Some of them are productive and creative.

Kim: Can you give an example in the curriculum?

Chae: Students get along with lecturers and professors and often go out with them. They leave to explore historic sites or to visit areas of fine view at least three times a year. It is learning through play. In the autumn, under the name of field research, students attend Busan International Film Festival (BIFF). They can meet a lot of interesting people and happening in the festival.

Kim: Play can be the essence of the culture.

Chae: All teaching staffs have good taste in play. That's why it is possible. A programme is called Aesthetic Human Practice can be another example. This programme has two parts: One is a class to learn Korean traditional songs, dances and musical instruments. The other is a class to learn calligraphy and drawing.

Kim: It reminds me of the Korean traditional concept, P'ungnyu(風流). You have a unique opinion of P'ungnyu. Many people are interested in your idea. Certainly, P'ungnyu is based on play.

Chae: In these days, many people treat it as an entertainment. The leisure activities by classical scholars have been distorted. I hope P'ungnyu regains a sense of the original meaning. The concept of P'ungnyu was established by Ch'oe Ch'i-wŏn (he was a noted Korean Confucian official, philosopher, and poet of the late Unified Silla period (668-935) - written by translator). He said P'ungnyu is, in company with all living things, a process of birth, change, progress and enforcement of human activities. It makes clearer human and all living things live together.

Kim: Play is a high cultural product and activity. Moreover, the art must be the peak of play. If the art lose a playing factor, in this context, it might appeal less to the general public.

Chae: I am also interested in the connection between Korean religion movements in the 19th century and music and dance. The founder of Tonghak, Ch'oi Che-u made a song, A Song of Swords. Kang Il-Sun (1871–1909) highlighted Kut of Heaven and Earth. Music and dance are essential in the Korean traditional rite, kut. Master Kim Ilpu (1826-1898) also presented his idea of singing and dancing. This tradition can track back to the concept of Nothingness (muae; 無碍) by Wŏnhyo (617–686, He was one of the leading thinkers, writers and commentators of the Korean Buddhist tradition. - written by translator). He wandered around various parts of Korea with vagrants and led many people to Buddha through simple, funny and ridiculous songs and dances. I think the songs and dances should be important methods to find enlightenment for him. He believed holiness and secularity are the same. This point is interesting and mysterious. In this sense, these Korean religious ideas could be an interesting research topic.
contributor _ Jungrock Seo / Dance Historian