From Korea
Dance Scene in Korea : October 2013

In last Dancewebzine, you can find two reviews of recent performances in Korea. In the first review, Chae-hyeon Kim, dance critic, made remarks about 2 performances which were respectively composed by The Body Dance Company and Jangeunjung Dance Company. The Body Dance Company showed The Road, for which Kim criticized an excellent work of duet style. The work depicted a path of life of a couple with pure and elegant movement of a female dancer as well as raw and precise movement of male dancer. With buddhist background music and Korean folk music Arirang of low-pitched tone, it was criticized as a remarkable work for a metaphor to life. Jangeunjung Dance Company presented Howdy, hope you well which was already showed last year. In the work, the company lifted an old woman who was not a dancer. The woman demonstrated a female sense of dignity of human being with young adroit dancers. All of them displayed a communicative movement searching for a better relationship than before. Kim pointed out that Howdy, hope you well would be a representative example which applied means of community dance to concert performance. In the second review, Ok-hee Kwon, dance critic, made remarks about Passing by..., a performance by Hyeon-hee Jang. In the work of 6 parts, Jang inquired the origin which makes her move. Kwon took note of the consistency of composing of subjects and the simplicity of dance language. And Kwon accentuated that Jang seemed to renew her world, owing to the force of dancing.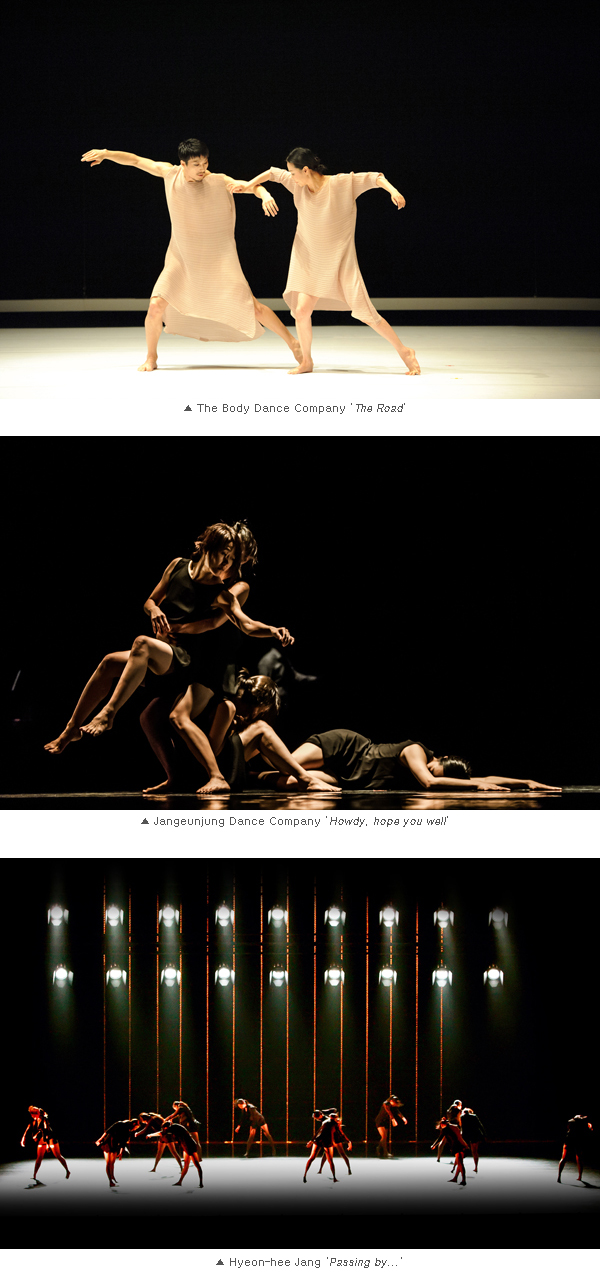 Seoul Performing Arts Festival(SPAF) 2013 will be held from October 2 to 26 in Seoul. This year, it invited 9 foreign companies including 10 Korean companies of dance and drama. Under the main title 'Surrealism vs. Reality', SPAF 2013 enunciated an intention to encourage and inspire a new mode of creativity beyond the still-too-strong vocabularies of realism theatre and the imbalanced trend of conceptual dance in Korean performing arts scene: surrealist theatre from France, multimedia theatre from the US and dance works based on strong and profound physicality. It seems very interesting to contrast surrealist and realist mode of performance on stages of one event. SPAF 2013 will also hold the 7th Seoul Dance Collection and Connection for young dancers.
http://www.spaf.or.kr/
http://www.youtube.com/SPAFinSeoul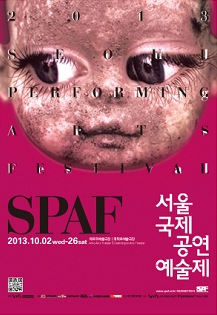 Invited Foreign Companies (Work / Director / Company), SPAF 2013
Victor ou les enfants au pouvoir / Emmanuel Demarcy-Mota / Theatre de la Ville
SONTAG: REBORN / Marianne Weems / The Builders Association
King Lear / Tadashi Suzuki / Suzuki Company of Toga
Sfumato / Rachid Ouramdane / L'A
L'apres-midi d'un Foehn / Phia Menard / Non nova
Vortex / Phia Menard / Non nova
Zbrodnia(The Crime) / Ewelina Marciniak / Teatr Polski Bielsko-Biała
Celebration/Expression / Koji Hasegawa / Aomori Museum of Art
What the Body Does Not Remember / Wim Vandekeybus / Ultima Vez
(* This article is reposted following last month.)




SIDance 2013 will be held from October 7 to 27 in Seoul. In the event, 10 foreign companies from Canada, France, Catalonia, Taiwan, Finland, Macedonia, Slovenia, USA, Norway, and Italy will display their works. And dancers from Singapore, Australia, Nigeria, Macedonia, China, and Congo will show collaboration works with Korean dancers in Asia–Africa– Eastern Europe Dance Exchange programme. Of course, there will be performances by Korean dancers: Choe Sangchul, Nam Youngho, Kim Yongchul, Lee Insoo and others. For the past several years, it prepared a stage for hip-hop dance and a Dancing City programme in Seoul. From 2008, SIDance has also held Seoul Performing Arts Critics Forum where many critics from Europe and Asia participated in to discuss various tasks of performing arts in the new century.
http://www.sidance.org/2013english/main.php
http://www.youtube.com/watch?feature=player_embedded&v=YZJpw04X4n0#t=18



Invited Foreign Companies (Work / Choreographer / Company), SIDance 2013
Variations S / Duels / Hélène Blackburn's / Cas Public
Is She Coming? / Choe Contemporary Dance Company
Eloge du puissant royaume / Heddy Maalem / Cie Heddy Maalem
Shortcuts / Marcos Morau / La Veronal
The Unreality of Time / Marina Mascarell & Dance Forum Taipei
Me-Me / Dance Theatre Auraco
He, He.. Helium / Skin / Kirov Dance Company
RE: OK…BUT! / Kim Jaeduck & T.H.E Dance Company
Gateless Gate / Jun Injung & Simon Barker
Moon Over Jupiter / Complexions Contemporary Ballet
The Perfect Reason / Lee Insoo
Sjøen (The Sea) / Ingun Bjørnsgaard Prosjekt
The Last Season of Your Life / Hanna Brotherus & Trust Dance Theatre
A Posto(In Place) / Ambra Senatore
Moon Jar / Nam Youngho / La Coree'graphie
Asia–Africa– Eastern Europe Dance Exchange
Across Hip Hop Ⅶ / Cie De Fakto & Goblin Party
(* This article is reposted following last month.)




In Korea in the early 1970s, a man, Mr. Lee Wan-young, tried to make toeshoes by his own efforts. After some years of trial and effort, Mr. Lee had eventually developed them which could be called the first Korean toeshoes. Since then, he and his company provided toeshoes for so many ballerinas including Korean Nat'l Ballet and Gwangjoo Metropolitan Ballet. In 1980s, a fair number of the Korean ballerinas and female ballet novices used the Korean-made toeshoes, which were put with a logo of Mitoori. That time was a kind of golden age for Korean toeshoes. Of course, ballerinas used also foreign toeshoes for that time. However, entering 1990s, due to several causes such as governmental policy of import freedom, insufficient quality of Mitoori toeshoes and improved living standard, the Korean-made toeshoes began to be ousted from the top-selling brand in Korea. The toeshoes making has been declining for a long time. Now, only one another young man produces a small quantity of toeshoes in Seoul. In contrast, the Korean ballet has brilliantly grew to appear on the int'l stage since the 1970s.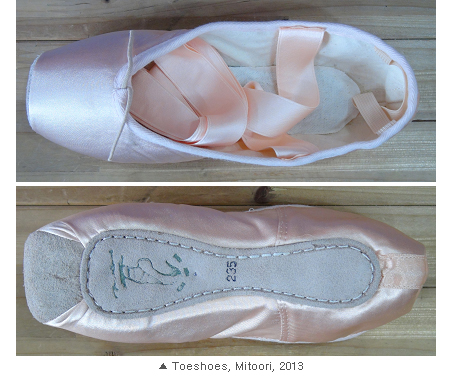 contributor _ Jungrock Seo / Dance Historian