From Korea
Dance Scene in Korea : August 2013

Dancewebzine is a monthly webzine for dance world, which is the only one in Korea. There are several off-line dance magazines in Korea. Dancewebzine issued its number first in February 2010. It contains various articles reflecting general dance activities in Korea including reviews, and each of the articles is put on a menu classified like this: Discussion, Interview, Memory, Review, Dance News and Events, Special Article, Essay, Academic Research, Dance Jobs, Dance Calendar and Ads. And it includes articles about foreign useful dance news for Korean dancers so that you can contribute them to Dancewebzine(dancewebzine@naver.com). Dancewebzine is now mindful of exchanging articles with foreign dance media in the not too distant future.
Dancewebzine is published by the Korean Association of Dance Critics and Researchers(KADCR), which was founded in January 2010. The association was formerly the Korean Society of Dance Critics. In November 2009, some members of the Korean Society of Dance Critics determined to found a new organization to freshen up the atmosphere surrounding dance criticism. The KADCR publishes the Journal of Dance Criticism, an off-line mook, 2 times in a year, and the Dancewebzine(http://www.koreadance.kr/) monthly. And it chooses some best and excellent dance works and dancers for several annual awards. In addition, it also holds annual dance forum dealing with hot issues of dance in Korea, and it had co-hosted some SPAC forums with CID UNESCO, Korea since 2010. The KADCR is comprised of 13 members as following: Lee Soon-yeol, Chae Hee-wan, Lee Byeong-ok, Kim Tae-won, Lee Jong-ho, Kim Chae-hyeon, Jang Kwang-yeol, Lee Man-joo, Kim Young-hee, Kwon Ok-hee, Lee Ji-hyeon, Seo Jeong-rock, and Kim Hye-ra.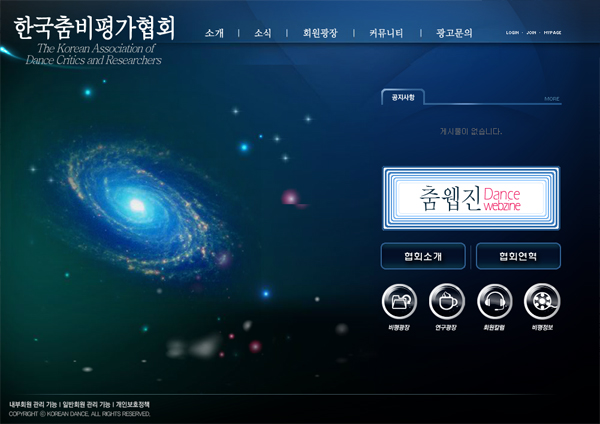 ▲ Home page of the website by the KADCR: http://www.koreadance.kr/
Click the left button of your mouse on the red-pink button 'Dancewebzine', please!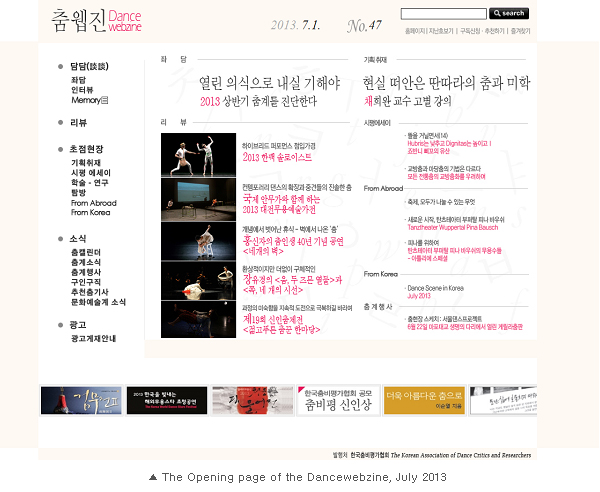 The choreographer and dancer, Ahn Ae-soon has began her 3 year term as the second artistic director of Korea National Contemporary Dance Company(KNCDC) in July 2013. The Ministry of Culture and Tourism started the KNCDC 3 years ago, and it appointed Hong Seung-yeop as the first artistic director. For the last 3 years, KNCDC has continued to announce performances of contemporary dance, including more than 5 new works. It also collaborated with some foreign choreographers from France and Netherlands like Joelle Bouvier, Uri Ivgi and Johan Greben. And the company toured overseas in New York, Mexico City and last July in 3 German cities.
Ahn Ae-soon, the new director, has hold the artistic directors of Hanguk Performing Arts Center and Seoul Performing Arts Festival in succession until this time. Since she founded her own company, Ahn Ae-soon Dance


▲ Ahn Ae-soon
New Artistic Director, KNCDC
company, in 1985, she has opened up the new horizon of Korean contemporary dance circle, making efforts to create works in the way to consider Korean identity and in cooperation with the other genres. She is famous for her works, "Misery", "S is P" and "The 11th Shadow", which presented her the valuable awards. In the press conference scheduled to open in this August, she will announce her plan, vision and the new projects that she is going to do in the near future.
                                  http://www.kncdc.kr/eng_main.asp

More than 1,500 repertoires or performances of dance have been performed throughout the country for a year in Korea. But in summer in Korea, there are less dance performances generally than in spring or fall. In this time, dancers arrange for next performance and some dancers go abroad to survey or enjoy dance trends. So, it's common to encounter Korean dancers and performers in main foreign festivals including Edinburgh Int'l Festival, Avignon Festival and Impulstanz of Vienna. In this summer, Kim Hyo-jin, dancer and composer, will put on a multi-media dance performance 'Madame Freedom' at Edinburgh Int'l Festival. The website of Edinburgh Int'l Festival introduces the perfoemance as following. "A stunning and stirring fusion of live performance, fantastical filmed imagery and innovative digital technology, Madame Freedom dances with the classic Korean film of the 1950s of the same name, as well as with themes of identity, myth, and a sense of being trapped by the past. It tells the story of an ordinary woman and her dreams – of different lives, of different selves – and the choices that she can or cannot make." It will be held at King's Theatre in 21-22 August.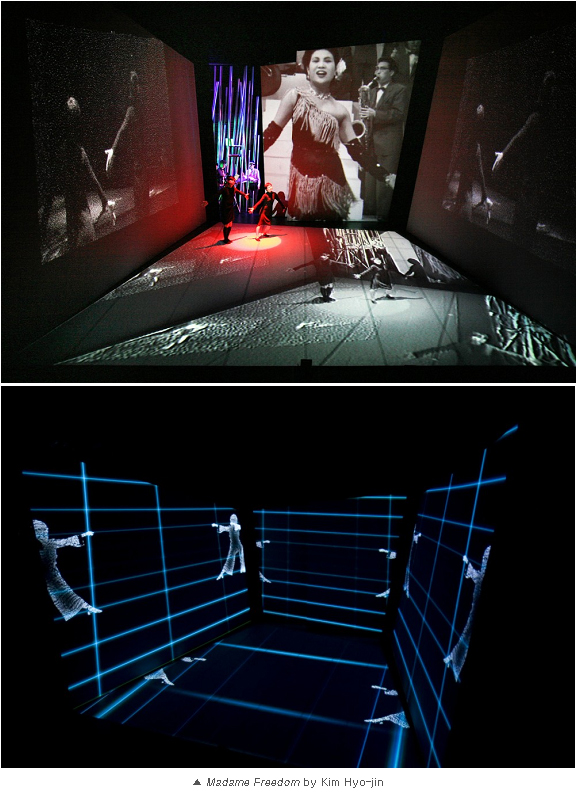 The Arts Council Korea, a governmental organization founded in 2005, will present a unique programme, DanceLAB Seoul 2013, in August to make dancers an opportunity based on research workshop to share contemporary issues of dance. For it, the council invited 3 foreign artists from Australia, France and Netherlands: Gideon Obarzarnek, Mathilde Monnier, and Guy Cools. The programme will keep as long as 3 weeks from 12 through 30 this month. It is composed of 3 laboratories, which will be conducted respectively by each one of the artists. Each laboratory is again composed of Movement Tuning Session, Research in Studio, Individual and Group Coaching, Feedback and Review Session, Documentation, and Works-in-Progress Presentation.
Gideon Obarzarnek, former artistic director of Chunky Move, Australia, will give a lab 'Making Sense of Things', which aims at analyzing and practicing an innovative collaboration between stage performance, film, installation and media performance. And the participants will be also given an idea of a new work planned now by G. Obarzarnek. The other lab 'Copié (Copied)' will be run by Mathilde Monnier, artistic director of Centre Chorégraphique National Montpellier, France. The lab will provides a series of re-translations of issues such as representation, collage, citation and fair imitation. It will make use of choreographic parts extracted from various DVD or image sources. Guy Cools, professor at Fontys Hogeschool voor de Kunsten, will conduct the last lab 'Dance & Dramaturgy' at which the participants will attain to essential polarities of dance composition such as recognition, clarification, intuition, experience, and they will have practice to make use of the polarities in real progress.
contributor _ Manjoo Lee / Dance Critic
Chaehyeon Kim / Dance Critic