From Korea
Dance Scene in Korea : December 2013

Kim Younghŭi   

The dance performance "Ode to Sanjo" was very special. It provided the rare opportunity to see all kinds of sanjo dances on one stage. It was also the only programme related to Korean traditional dance at the Seoul International Dance Festival-SIDance 2013. Seven well-kown dancers performed seven different styles of sanjo dance.

Sanjo is a Korean traditional musical form which literally means 'scattered melodies'. Sanjo was originally developed by Kim Ch'angjo (1865-1919) for the kayagŭm (a long zither with 12 strings). He composed his kayagŭm piece around 1890. Subsequently, almost every Korean musical instrument has been used in sanjo. Sanjo now stands for solo instrumental music which is accompanied by drumming on the changgu, an hourglass-shaped drum. Sanjo consists of seven movements based on seven rhythm patterns. It starts with a very slow and simple rhythm, the chinyangjo and becomes faster, ending with the fastest rhythm, the tanmori.

Sanjo dance came from the music. The first sanjo dance was choreographed by a Korean modern dancer, Ch'oe Sŭnghŭi (1911-1967) in 1942. She developed her own modern dances inspired by Korean traditional dance and music pieces. Sanjo dance was one of them. Since then, many choreographers created their own sanjo dance. The choreographers can be categorized into two groups. The first one has a background in Korean traditional dances. The other is inspired by sinmuyong (lit. new dance) which was founded by Korean modern dancers like Ch'oe Sŭnghŭi. These two groups have struck sparks off each other and developed various styles of sanjo dance.

The dancers involved in this performance were Son kyŏngsun, Yi Miyŏng, Yu Chŏngsuk, Yun Mira, Chŏn Ŭnja, Ch'oe Yŏngsuk, and Hwang Hŭiyŏn. Surely, their dances can be classified as belonging to the two groups. The dances by Son kyŏngsun and Yun Mira are influenced by Korean traditional dances. On the other hand, Yi Miyŏng, Yu Chŏngsuk, Chŏn Ŭnja, Ch'oe Yŏngsuk and Hwang Hŭiyŏn have the sinmuyong (lit. new dance) background. They are female dancers somewhere around fifty. Their dances have reached the ripening stage and everyone is now in her prime. In this programme, they displayed their maturity in their dances. This performance was smooth mellowness itself.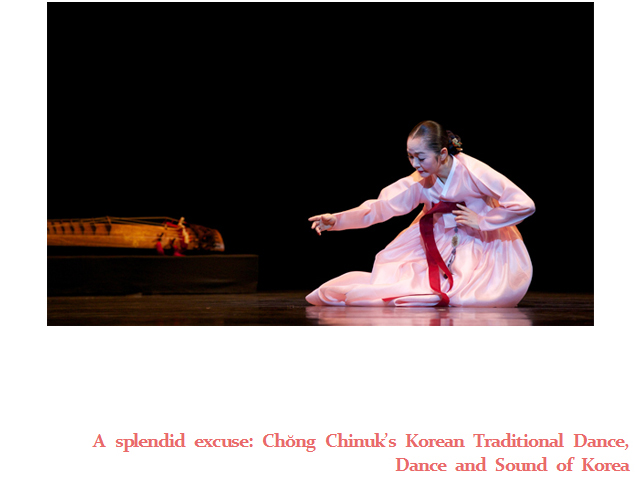 Kim Hera

In contrast to the sophisticated and polished dance scene in Seoul, traditional dance performances in provincial towns are often simple, dynamic and absolutely straightforward. In many cases, the performing environments are relatively poor. However, many dancers perform in packed theatres with an audience including all age groups. Moreover, the audiences do not hesitate to express their excitement with ch'uimsae and clapping while watching the dance. Ch'uimsae is an exclamation by the audience and the music accompanists during Korean traditional performance. Ch'uimsae and clapping obviously indicate a successful performance, so, it makes the dance more active, dynamic and enjoyable.

The popularity and the dynamism for the traditional dance performances in provincial towns can be explained by two reasons: One is that the audience in provincial towns does not want to miss the rare opportunity to watch a dance performance. The other is that many dance programmes are often targeted at the audience.

Chŏng Chinuk's dance performance in Masan city illustrates this cultural phenomenon. The choreographer Chŏng has performed with his dance company for ten years in this area. He has paid more attention on his audiences' responses than esthetical values. Consequently, he gives particular prominence to the dynamic side in Korean traditional dances rather than the sophisticated and the polished. An example piece could be Dance and Sound of Korea. In this piece, he intentionally omits a typical dance repertoire in Korean traditional dances such as Salpuri (lit. Spirit-cleansing dance) and Sŭngmu (lit. Buddhist monk dance) which mainly consist of slow movements. Instead of these dances, he adds dynamic dance pieces in his repertoire like Pukch'um (drum dance).

A big drum is located in the centre of the stage. The dance performance starts with the sounds of the big drum. According to Chŏng, the drum dance is useful to attract audiences' attention at the beginning of the performance. He has selected and reconstructed various Korean traditional drum dances such as Chido Drum Dance, Five Drum Dance and Sogo (a small hand-held drum) Dance. His drum dance was choreographed for vibrant rhythms and energetic movements. This piece still has some rough edges. The main reason could be that some of dancers are not professional but amateur. Notwithstanding some problems, the exciting communication with the audience of this piece is outstanding. In this point, we could see this kind of dance pieces have potential. Dance pieces that are familiar to audiences, obviously stand a better chance of attracting a diverse audience.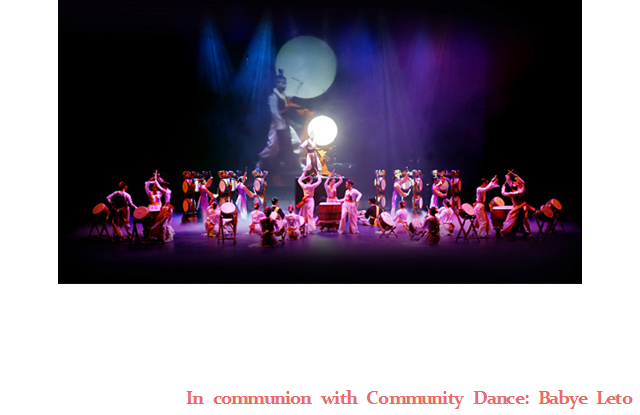 Kim Chaehyen

Although Babye Leto does not claim to be a community dance, it can be classified as a community dance. This dance piece was performed at ARKO (Arts Council Korea) Arts Theater in Seoul from September to October 2013. The title, Babye Leto (Бабье лето) means Old Ladies' Summer in Russian. It is 'Indian summer' in English. Three leading choreographers such as Chang Ŭnjŏng, Choe Chiyŏn, Kim Hyesuk and a drama actress, Kang Aesim, have produced this piece jointly. They set up a dance community which is called "Dancing Ladies". This dance piece was performed by nonprofessional people. It is interesting that they don't make an appearance but participate in this piece from the beginning of choreography.

This is comprised of three parts: talking with the audience, a dance to describe a woman's journey of self-discovery, the dancers and the audience join together in dance. In this performance, various middle-aged women's piteous lives were brought out as if they were chatting away with friends. The performance was a dance of drum and guitar sounds, chorus, dialogues and entertaining stage props. Such elements could artlessly present middle age women's lives with deep remorseful monologues. In the end, all of audiences joined in the merry dance. They should feel healed by this performance. It is certainly a performance which pushes the envelope of gender issue. In addition, this performance suggests new concept of a community dance in Korea. It is a professional dance performance as well as a community dance and a participatory theater. These kinds of performances are few and far between.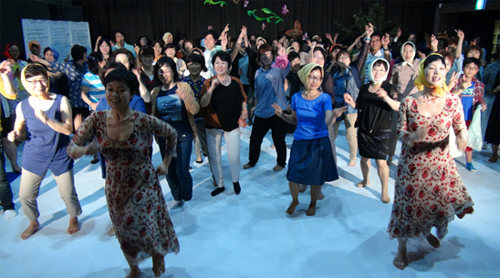 contributor _ Jungrock Seo / Dance Historian